A look at how job hopping and social networking shaped a career path for this millennial.
There is no way Reema Ibdah would have been able to predict exactly where her career path would lead to when she graduated from the University of Western Ontario (UWO) back in 2005. Here, she obtained a business degree with a specialization in French.
Unlike many millennials who look back at their choice of major with uncertainty, Ibdah highly recommends her program. "I really rely on my degree a lot as a fallback, because it lends itself to a lot of disciplines in the workforce," she says.
While her university education helped her to build a strong foundation in overall business management – covering topics like finance, marketing, operations and human resources – in shaping her career she has applied skills far beyond those gleaned while studying for her degree.
Take her 13,000 Twitter followers for example.
Or her impressive portfolio on LinkedIn.
Ibdah is now in her early 30s and recently took on a new role as Director of Social Media at Mackenzie Investments. She's in a good spot – she enjoys the work she does, she's pleased with the level she's already achieved in her career, and she's happy.
There's no doubt Ibdah has built herself the type of career many millennials are striving towards today. The question is: how did she do it?
Gaining a Digital Advantage 
Every generation faces its own qualms with time. In her book #GirlBoss, Founder and CEO of Nasty Gal, Sophia Amoruso, imagines a bus travelling through space and time, randomly opening its doors and dropping off souls to live in whatever decade they're assigned. "I don't believe we're all fit for the time we're assigned," Amoruso writes. But until time travel exists, "we've all got to make the most of where we land."
It's clear from our conversation, and her resume, that Ibdah has found a way to do exactly that.
If somebody offers you an amazing opportunity but you are not sure you can do it, say yes – then learn how to do it later.
When she first got into the workforce, careers in digital marketing were still on the rise. Titles such as "Social Media Community Manager" were few and far between. Ibdah started off, as many millennials do, in an entry-level role as project coordinator. From there she moved on to work at the Ontario Securities Commission, submersing herself in corporate finance and compliance for three years. "I felt like I had to try my hand at finance and see if I was meant to be there," she says. "And that's something I suggest doing early in your career. There's no harm in trying different areas, just to see what you're better at."
She became comfortable in the finance space, but her heart was still in marketing. So she took a job managing the digital platforms and websites at Warner Music.
Ibdah says her role at Warner was stressful, but she learned a lot. She references a quote by Richard Branson: "If somebody offers you an amazing opportunity but you are not sure you can do it, say yes – then learn how to do it later."
This is where Ibdah took advantage of her timing. "At that time digital was still on the rise so it gave me the advantage that I was an early adopter, and I was learning things well before others were," she says. She worked at Warner for two years, learning everything she could and profiting from the opportunity to connect with an international audience that was way ahead of Canada in the digital space.
I got three of my jobs through social media.
Her experience gave her the upper hand for her next role as Social Media Specialist at CMA Ontario, where she worked for another two and a half years before moving on to her current role at Mackenzie Investments.
The Powerful Influence of Social Media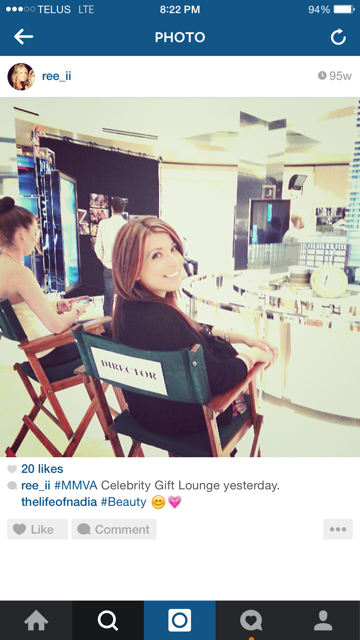 Ibdah has built a career in a field that barely existed when she was choosing a major for school. The digital realm continues to evolve at a rapid pace, and she continues to hold her place at the forefront.
She credits social media for shaping her career in a multitude of ways. "I got three of my jobs through social media," Ibdah says. One company connected with her through Twitter, and two others recruited her over LinkedIn.
"Social media is extremely powerful. People undermine it sometimes, but networking on Twitter and on LinkedIn – making connections and having meaningful conversations with people you meet – and really leveraging the power of those connections is extremely useful."
If you're willing to put the time and effort behind it and you have the work to show for it, people are going to take notice.
But like anything worthwhile, you have to be willing to put in the work if you want to see results. "If you're willing to put the time and effort behind it and you have the work to show for it, people are going to take notice," Ibdah says.
Of course, it's hard for potential employers not to notice her massive follower count on Twitter. Influencer outreach is hugely important in the world of digital marketing. Typically, an "influencer" has a follower count of around 5,000 to 6,000 – Ibdah has more than twice that. "Sometimes it's advantageous to the brands that I'm working with to have that network," she says. "If I'm promoting an initiative, I have that network to tap into."
Anyone who has spent any quality time on Twitter understands how impressive these numbers really are. Ibdah has dedicated a lot of time and effort to building her personal brand. She credits much of her following to her side hustle blogging for Chicago Now, a blogging branch of the Chicago Tribune. Here, she wrote about hockey – a hot topic of conversation for Canadians, on Twitter and everywhere else.
I think it is very advantageous to have different types of experience under your belt.
"[It's about] being a consistent face and keeping people interested in what you have to say," she says on what it takes to build a strong personal brand. "Just being vocal, just talking – because that's what social media is."
"And sometimes it is about food," she adds, with a laugh. "I know people make fun of food pictures, but everyone eats food. Sometimes it is helpful to say, 'This is what I ate today.'"
Whatever it takes to connect with people who share your love of falafel.
Facing Fears and Job Hopping to Success 
In many ways, Ibdah is the prime example of a successful job hopper.
The term "job hopping" is often associated with millennials and carries a negative connotation, but this isn't necessarily the case. "I think it is very advantageous to have different types of experience under your belt," says Ibdah. "[If] you're staying one or two years at a job and getting that experience and then moving on and getting other experience, I think that's very helpful, and I think a lot of employers and recruiters are starting to look for that."
She says millennials should embrace job hopping early in their careers; use it to really get a feel for your strengths and weaknesses, and to showcase transferable skills to potential employers.
As for other career advice, she tells millennials to "be bold."
As long as you're prepared for whatever will come, I think it all falls into place.
"Ask a lot of questions, don't be afraid and don't think you have to know it all or that you're expected to know it all," she says. "Your managers, directors and VPs, they're looking for hungry employees that are looking to advance because they actually care – and they're showing they care by asking questions. They're not afraid to say, 'I don't know, but I'm willing to learn.'"
Even Ibdah admits she still has a lot to learn in her career. But in many ways, that's the best part: finding a calling that pushes you to grow, and inspires you to experiment with new trends and ideas. And if you, like Ibdah, work in a field that is constantly changing, it means embracing a future unknown.
"To me that's exciting; I like the unknown and I like the possibility of new things," she says. "I think being adaptable is key. And just trusting that it will all work out for the best, as long as you're prepared for whatever will come, I think it all falls into place."